The Best Tea Subscription Services for Tea Lovers
Written: editor | August 22, 2023
Introduction
As a tea lover, there's nothing quite like the joy of discovering new and delicious teas from around the world. And that's where tea subscription services come in! These services deliver a carefully curated selection of teas right to your doorstep on a regular basis, helping you explore new flavors and expand your tea collection.
What are tea subscription services and why are they popular?
Tea subscription services are a convenient and fun way for tea enthusiasts to discover and enjoy a wide variety of teas. These services work by sending you a selection of teas, often in sample sizes, at regular intervals, typically monthly or quarterly. They offer a curated experience, taking into account your preferences and introducing you to teas from different regions, cultures, and flavors.
So why are tea subscription services so popular? Here are a few reasons:
Convenience: With a tea subscription service, you don't have to spend time searching for new teas or visiting specialized tea shops. The teas are delivered directly to your doorstep, saving you time and effort.

Exploration: Tea subscription services provide an excellent opportunity to explore and try teas that you may not have encountered otherwise. You can discover teas from different countries, rare blends, unique flavors, and even seasonal offerings.

Curation: These services have experts who carefully curate the tea selections, ensuring a high-quality and diverse range of teas. This takes the guesswork out of finding good teas and guarantees a delightful tea-drinking experience.

Community: Many tea subscription services create a sense of community among their subscribers. They often provide tasting notes, brewing guides, and even online forums where tea lovers can share their experiences and recommendations with each other.
So, if you're ready to embark on a tea adventure and expand your tea horizons, a tea subscription service might be just what you need!
Sips by Tea Subscription
I recently discovered the wonderful world of tea subscription services, and one that stood out to me is Sips by. Not only does it offer a wide variety of teas, but it also provides a personalized experience that caters to your unique taste preferences.
Sips by Tea Subscription: Overview and Pricing
Sips by offers a monthly subscription service that delivers a curated selection of premium teas right to your doorstep. The subscription starts at $15 per month and includes four different teas, enough to make 15 cups. You also have the option to customize your subscription based on your tea preferences, such as herbal, black, green, or oolong teas.
Curated Tea Selections and Personalized Recommendations
What sets Sips by apart is their dedication to curating teas from a wide variety of brands and flavors. They work closely with tea experts to ensure that you receive a diverse selection every month. Additionally, when you sign up, you'll answer a quiz that helps them understand your taste preferences. Based on your answers, Sips by will tailor your monthly box to include teas that match your liking.
Tea Education and Community
Not only does Sips by provide great tea selections, but they also offer educational resources and a community of tea enthusiasts. Each box comes with steeping guidelines and tasting notes to help you fully appreciate each tea. They also have a blog and social media presence where they share tea-related content and connect with their subscribers.
In conclusion, Sips by Tea Subscription offers a fantastic way to explore the world of tea. With their curated selections, personalized recommendations, and educational resources, you'll be able to discover new teas and expand your tea knowledge.
TeaBox Subscription
Hey tea enthusiasts! If you're someone who loves discovering new teas and enjoys the convenience of having them delivered right to your doorstep, then the TeaBox Subscription is perfect for you.
TeaBox Subscription: Overview and Pricing
TeaBox offers a subscription service that brings you a curated selection of high-quality teas from India. With their subscription, you'll receive a monthly package that includes a variety of teas, carefully chosen to ensure freshness and flavor.
When it comes to pricing, TeaBox offers different subscription plans to cater to your tea preferences and budget. They have options ranging from a sampler pack to larger quantities for frequent tea drinkers. The prices are reasonable, considering the quality of the teas you'll receive.
Fresh and High-Quality Teas from India
One of the best things about the TeaBox subscription is the quality of the teas they provide. They source their teas directly from renowned tea gardens in India, ensuring that you get the freshest and most authentic flavors. From bold black teas to delicate green teas and fragrant herbal infusions, TeaBox has something for every tea lover.
Customizable Subscription Options
TeaBox understands that everyone has different preferences when it comes to tea. That's why they offer customizable subscription options. You can choose the type of tea you want to receive, such as black, green, oolong, or herbal teas. You can also select the quantity and frequency of deliveries that suit your tea-drinking habits.
With TeaBox subscription, exploring the world of tea becomes an exciting journey. Discover new flavors, expand your tea collection, and indulge in the comforting ritual of brewing a cup of tea. So go ahead, treat yourself or surprise a tea-loving friend with a TeaBox subscription.
Art of Tea Subscription
As a tea lover, finding the perfect subscription service can be a game-changer. That's where the Art of Tea Subscription comes in – offering a wide range of unique and delicious tea blends delivered right to your doorstep.
Art of Tea Subscription: Overview and Pricing
The Art of Tea Subscription offers three different options for tea enthusiasts: the Loose Leaf Tea Club, the Pyramid Tea Bag Club, and the Wellness Tea Club. Each option provides a unique experience, catering to different preferences and needs. The subscription starts at $16 per month, and you can choose between a month-to-month plan or a prepaid plan for more savings.
Artistic Blends and Unique Tea Varieties
One of the highlights of the Art of Tea Subscription is the incredible variety of blends available. From classic favorites like Earl Grey and English Breakfast to more unique and artisanal blends like Coconut Cacao Pu-erh and Blueberry Acai White Tea, there is something for everyone's taste buds. The teas are carefully curated by experts who prioritize quality and flavor, ensuring a delightful tea experience with each sip.
Tea Tasting and Store Discounts
As a subscriber, you not only receive monthly deliveries of delicious teas but also gain access to exclusive benefits. The Art of Tea offers regular tea tasting events, where you can learn about different tea varieties and brewing techniques. Moreover, subscribers enjoy discounts on full-sized tea purchases, allowing you to expand your tea collection and indulge in your newfound passion for tea.
So, if you're looking to elevate your tea-drinking experience, the Art of Tea Subscription is the perfect choice. Join the club and embark on a journey of delightful flavors and aromatic
Plum Deluxe Tea Subscription
Plum Deluxe Tea Subscription: Overview and Pricing
If you're a tea enthusiast like me, you'll absolutely love the Plum Deluxe tea subscription. This subscription service offers a delightful selection of high-quality, organic, and small-batch teas that will transport you to a world of flavors and aromas. The best part? It's delivered right to your doorstep every month, ensuring you never run out of your favorite brews.
Plum Deluxe offers different subscription options to suit your preferences and budget. You can choose from their Herbal Tea subscription, which includes caffeine-free blends made with healing herbs, or their Black Tea subscription if you prefer a robust and energizing cup of tea. There's also the Tea of the Month Club, where you receive a surprise blend each month, hand-curated by Plum Deluxe's expert tea sommelier. Prices start at just $10 per month, making it an affordable luxury that adds joy to your daily tea rituals.
Organic and Small-batch Teas
One of the main reasons I adore Plum Deluxe is their commitment to sourcing organic and small-batch teas. This ensures that every sip is packed with the purest and freshest ingredients, free from harmful pesticides or additives. Their teas are carefully blended by hand, capturing the essence of each ingredient and creating a symphony of flavors that will awaken your taste buds.
The Plum Deluxe team takes great pride in their selection process, ensuring that only the finest teas make it into your subscription box. Each batch is crafted with love and attention to detail, resulting in a tea experience that is truly exceptional. Whether you're new to the world of tea or a seasoned connoisseur, Plum Deluxe offers a tea subscription that is both comforting and adventurous, allowing you to explore new flavors and find your perfect cup.
Tea Runners Subscription
Tea Runners Subscription: Overview and Pricing
As a tea enthusiast, I'm always on the lookout for the best tea subscription services out there. And one that consistently stands out is Tea Runners. Not only do they offer a wide selection of premium loose leaf teas, but their commitment to variety and exclusivity makes them a top choice for tea lovers.
Tea Runners offers two subscription options: the Sampler Box and the Tea Runners Box. The Sampler Box is priced at $21.50 per month and includes four different teas, each in resealable pouches with 4-8 cups worth of tea. The Tea Runners Box is priced at $25.50 per month and includes four larger-sized pouches with 8-16 cups worth of tea. Both options come with free shipping within the United States.
Premium Loose Leaf Tea Selections
One of the reasons I love Tea Runners is their focus on quality. They source their loose leaf teas from top tea estates and artisanal tea makers from around the world. This ensures that subscribers get to experience the finest teas with each delivery. From black and green teas to herbal and oolong varieties, Tea Runners offers a wide range of flavors to cater to different preferences.
Variety and Exclusivity
What sets Tea Runners apart is their dedication to introducing subscribers to unique and exclusive teas. Each month, they curate a selection of teas that are not easily found in local stores. This allows subscribers to explore new flavors and expand their tea palate. Additionally, Tea Runners includes detailed tasting notes and steeping instructions with each box, making it easy for subscribers to fully enjoy and appreciate the teas they receive.
If you're a tea lover looking for a subscription service that offers premium, diverse, and exclusive teas, I highly recommend giving Tea Runners a try. It's like having a tea sommelier deliver a new tea experience to your doorstep every month.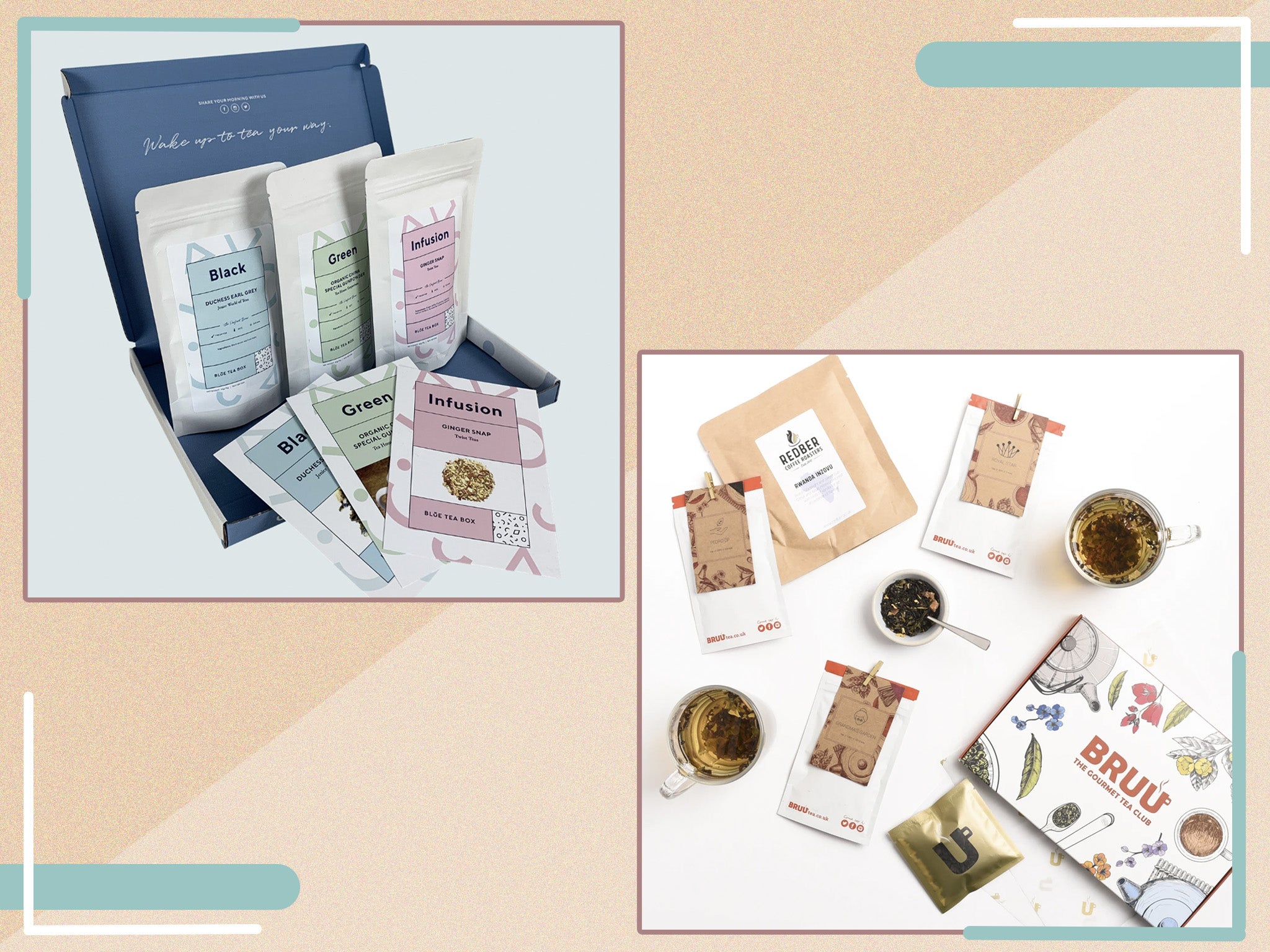 Comparing the Best Tea Subscription Services
When it comes to enjoying a perfect cup of tea, having a reliable tea subscription service can make all the difference. As an avid tea lover, I've tried various subscription services and have narrowed down the top ones for you to consider:
Teabox: Teabox offers a wide range of premium loose leaf teas sourced directly from tea gardens. With personalized recommendations and flexible subscription options, Teabox ensures you never run out of your favorite brew.

Adagio Tea: Adagio Tea provides an impressive selection of loose leaf teas, including unique blends and single-origin options. Their subscription service allows you to customize your delivery frequency and try new flavors each month.

Simple Loose Leaf: Simple Loose Leaf offers curated boxes of hand-selected teas delivered right to your doorstep. Their monthly subscription features a variety of teas, including black, green, herbal, and oolong, ensuring you always have something new to sip on.

Art of Tea: Art of Tea is known for its high-quality organic teas sourced from around the world. With their subscription service, you can enjoy a different tea every month and discover new flavors that suit your taste buds.
Frequently Asked Questions about Tea Subscriptions
Are tea subscriptions worth it? Absolutely! Tea subscriptions provide convenience, variety, and the opportunity to explore different teas without the hassle of searching for them individually.

Can I customize my tea subscription? Yes, many tea subscription services offer customization options, such as selecting your preferred types of tea or indicating any allergies or dietary restrictions.

How does cancellation work? Most tea subscription services allow you to cancel or pause your subscription at any time. Check their cancellation policy for specific details.

Are tea subscriptions more cost-effective? In many cases, tea subscriptions can be more cost-effective compared to buying individual teas, especially when considering the added benefits of convenience and discovery.
In conclusion, finding the best tea subscription service can elevate your tea-drinking experience. Whether you prefer black, green, herbal, or exotic blends, there is a subscription service out there that can cater to your unique taste preferences. So go ahead, explore, and enjoy the delightful world of tea!